An In-App Purchase can be made to unlock all features, please see the explanation of the FREE version.
You can also buy the pre-unlocked version from the App Stores - the cost is the same. If you want to get the full version use these buttons.

Features...
Plan your battle in real-time!
Designed for FPS, RTS & MMO team strategy comms
Over 250 maps available at no cost in the Map

Locker

Cross-platform (between iOS & Android devices)
Spread the word...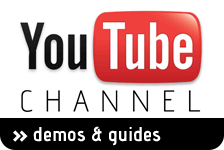 Problems? Questions? Please contact us...
If you are having problems with GamePlan, we're here to help.
First, take a look at the FAQ's below, and this quick user-guide video might help.
Also check our new 'TIPS' page here.
And view the features list and version changelog here.
If this still does not answer your question, please read the FAQ's below before contacting us.
Frequently Asked Questions
Q1: Do I need an account to use GamePlan online?
No. GamePlan is completely anonymous. The username you set is simply to identify you to your group.
Q2: Do I need to pay for new maps?
No. GamePlan maps are freely provided by the user community. Feel free to submit your own maps for inclusion in the MapLocker!
Q3: Does GamePlan work over a 3G connection?
Yes. Although, we recommend you do not download new maps using 3G. Use GamePlan to plan your battles on the bus on the way home, then connect whilst in-game to keep everyone together!
Q4: What devices does GamePlan work on?
Currently GamePlan is a universal iOS app, compatible with iPad and iPad2, iPhone 3GS or better, iPod Touch 3rd gen or better and all Android devices (phones and tablets) with OS of 2.2 and above, with a miniumum specification of 256mb RAM and ARM processor. This includes all current generation devices. If you are unsure, please contact us using the form above before purchasing.
Q5: How do I add maps for games not in the MapLocker?
Simply save the map image to your device photo library, then start a new map and tap the 'FROM PHOTO ALBUM' button to choose the image (or take a photo of your real world wargame setup). This will instantly be transmitted to anyone in the current session automatically. You can also add to the community and send your maps for approval to us for inclusion into the built-in MapLocker. Just send them by email or use the map submission form.
Q6: Why are my rooms not showing up in the lobby list for my team mates?
The common reason is that when you created the room, you have left the 'show in lobby' switch off (red light making the room hidden). Make sure to tick the light so it's green if you want your room to show in the list. You can keep rooms hidden and just give the 'room name' to your team in another way so they can join by typing the room name directly in the 1st field.
Q7: How do I reposition icons and lines?
You must have the edit menu open to make changes to your drawing layer. If the menu is closed you are in view mode, so you can more easily pan the map with single finger and zoom with pinch. Just open the PEN menu again and you are back to edit mode. Simply tap and hold any element to reposition or drag to wastebasket.
Q8: How do I delete drawing elements I have made?
You can long hold an element (for lines and shapes use the handle crosshair attached to each line) and drag it to the wastebasket icon that appears then let go when the basket is highlighted.